<! mark 1>
These are our dual Xeon 1U Twin systems. Each 1U chassis contains two complete dual Xeon machine nodes so there are 4 Xeons CPUs installed. Each node can have up to 96GB memory and two hot swap SATA drives.

Each node also has built-in IPMI support.

All models except the base model have Infiniband controllers on their nodes:
Model 6016TT-INFF has 20Gbps Mellanox Infinihost III Infiniband controller w/ CX4 connector.
Model 6016TT-IBXF has 20Gbps Mellanox ConnectX DDR Infiniband controller w/ QSFP connector.
Model 6016TT-IBQF has 40Gbps Mellanox ConnectX QDR Infiniband Controller w/ QSFP connector.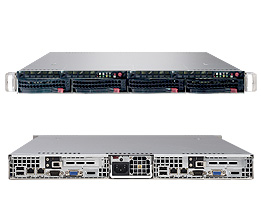 The amount of memory selected will be split equally betwen the two nodes. Please note that the hard drives are not shared but instead independently controlled by the node they connect to. So at least two drives should be selected in order for the OS to be installed on both nodes.

There are choices for the major components. After making the selections, please go to the bottom of this page, and click to calculate the total price and get a printable page.
SWT Dual Xeon 1U Twin

---
---
<! mark 2>